The Bye Bye Man

PG-13
Available in 2D. Click links for showtimes.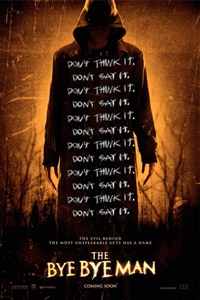 Playing at highlighted locations:
Arlington Theatre
Big Wood 4
Camino Real Cinemas
Fairview Theatre
Holiday Village 4
Isis
Metro 4
Park Twin
Paseo Nuevo Cinemas
Plaza de Oro
Redstone 8
Riviera Theatre
Wildhorse 6
People commit unthinkable acts every day. Time and again, we grapple to understand what drives a person to do such terrible things. But what if all of the questions we're asking are wrong? What if the cause of all evil is not a matter of what...but who? When three college friends stumble upon the horrific origins of the Bye Bye Man, they discover that there is only one way to avoid his curse: don't think it, don't say it. But once the Bye Bye Man gets inside your head, he takes control. Is there a way to survive his possession?
Details
Horror, Suspense/Thriller
1 hr. 36 min.
Opened January 13th, 2017

Cast
Carrie-Anne Moss
Faye Dunaway
Douglas Smith
Cressida Bonas
Lucien Laviscount
Director
Stacy Title
Writer
Robert Damon Schneck