Wilson

R
Available in 2D. Click links for showtimes.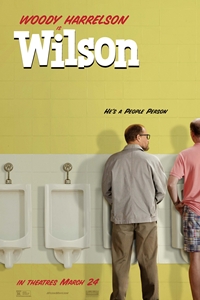 Playing at highlighted locations:
Arlington Theatre
Big Wood 4
Calexico 10
Camino Real Cinemas
Fairview Theatre
Holiday Village 4
Isis
Metro 4
MetroLux 14
Park Twin
Paseo Nuevo Cinemas
Plaza de Oro
Redstone 8
Wildhorse 6
Wilson is a lonely, neurotic and hilariously honest middle-aged misanthrope who reunites with his estranged wife and gets a shot at happiness when he learns he has a teenage daughter he has never met. In his uniquely outrageous and slightly twisted way, he sets out to connect with her.
Details
Comedy
1 hr. 34 min.
Opened March 24th, 2017

Cast
Woody Harrelson
Laura Dern
Judy Greer
Cheryl Hines
Isabella Amara
Director
Craig Johnson
Writer
Daniel Clowes