Gold

R
Available in 2D. Click links for showtimes.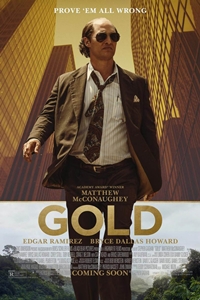 Playing at highlighted locations:
Arlington Theatre
Big Wood 4
Camino Real Cinemas
Fairview Theatre
Fiesta 5
Holiday Village 4
Isis
Metro 4
Park Twin
Paseo Nuevo Cinemas
Plaza de Oro
Redstone 8
Riviera Theatre
Wildhorse 6
The epic tale of one man's pursuit of the American dream, to discover gold. Kenny Wells, a modern day prospector desperate for a lucky break, he teams up with a similarly eager geologist and sets off on an amazing journey to find gold in the uncharted jungle of Indonesia. Getting the gold was hard, but keeping it would be even harder, sparking an adventure through the most powerful boardrooms of Wall Street. The film is inspired by a true story.
Details
Action/Adventure, Drama
2 hr. 1 min.
Opens January 27th, 2017

Cast
Matthew McConaughey
Edgar Ramirez
Bryce Dallas Howard
Toby Kebbell
Corey Stoll
Director
Stephen Gaghan
Writer
Stephen Gaghan
Patrick Massett
John Zinman