Song to Song

R
Available in 2D. Click links for showtimes.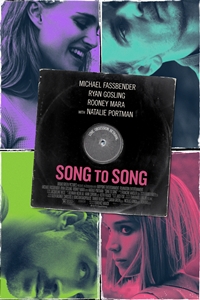 Playing at highlighted locations:
Arlington Theatre
Big Wood 4
Calexico 10
Camino Real Cinemas
Fairview Theatre
Fiesta 5
Holiday Village 4
Isis
Metro 4
MetroLux 14
Park Twin
Paseo Nuevo Cinemas
Redstone 8
Wildhorse 6
In this modern love story set against the Austin, Texas music scene, two entangled couples - struggling songwriters Faye and BV, and music mogul Cook and the waitress whom he ensnares - chase success through a rock 'n' roll landscape of seduction and betrayal.
Details
Drama, Romance
2 hr. 25 min.
Opened March 17th, 2017

Cast
Haley Bennett
Ryan Gosling
Natalie Portman
Michael Fassbender
Rooney Mara
Director
Terrence Malick
Writer
Terrence Malick