Samaritan's Purse presents Facing Darkness

NR
Available in 2D. Click links for showtimes.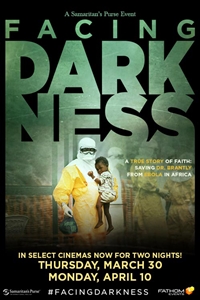 Playing at highlighted locations:
Big Wood 4
Calexico 10
Camino Real Cinemas
Fairview Theatre
Fiesta 5
Holiday Village 4
Isis
Metro 4
MetroLux 14
Park Twin
Paseo Nuevo Cinemas
Plaza de Oro
Redstone 8
Wildhorse 6
Fathom Events and Samaritan's Purse present the compelling documentary, Facing Darkness, A True Story of Faith: Saving Dr. Brantly from Ebola in Africa, in select cinemas nationwide for a special one-night event on Thursday, March 30.

In the spring of 2014, while the world stood by as Ebola consumed West Africa, Samaritan's Purse stepped forward to provide aid and comfort, but one of their own medical personnel became infected. Following this moving story, audiences will hear from Samaritan's Purse President, Franklin Graham, and Dr. Kent Brantly, the first American to survive Ebola, regarding their time in Africa, the organization's mission, and their lives since the high drama of the epidemic.

Details
Program
2 hr. 0 min.
Opens March 30th, 2017

Director
Arthur Rasco
Writer

Thu 3/30 Showtimes


Click times to purchase tickets