I Am Not Your Negro

PG-13
Available in 2D. Click links for showtimes.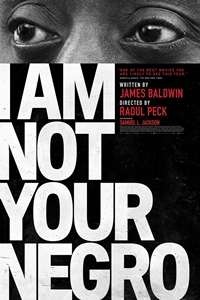 Playing at highlighted locations:
Arlington Theatre
Big Wood 4
Calexico 10
Camino Real Cinemas
Fairview Theatre
Fiesta 5
Holiday Village 4
Isis
Metro 4
MetroLux 14
Park Twin
Paseo Nuevo Cinemas
Redstone 8
Riviera Theatre
Wildhorse 6
In his new film, director Raoul Peck envisions the book James Baldwin never finished - a radical narration about race in America, using the writer's original words. He draws upon James Baldwin's notes on the lives and assassinations of Medgar Evers, Malcolm X, and Martin Luther King Jr to explore and bring a fresh and radical perspective to the current racial narrative in America.
Details
Documentary
1 hr. 35 min.
Opened February 3rd, 2017

Director
Raoul Peck
Writer
James Baldwin
Raoul Peck