Available in 2D. Click links for showtimes.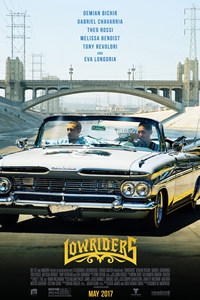 Playing at the following locations:
Lowriders is set against the vibrant backdrop of East LA's near-spiritual car culture and follows the story of Danny, a talented young street artist caught between the lowrider world inhabited by his old-school father and ex-con brother, and the adrenaline-fueled outlet that defines his self-expression.
Details
Drama
1 hr. 39 min.
Opened May 12th, 2017

Cast
Melissa Benoist
Eva Longoria
Theo Rossi
Tony Revolori
Demián Bichir
Director
Ricardo de Montreuil
Writer
Joshua Beirne-Golden
Cheo Hodari Coker