7 Days In Entebbe

PG-13
Available in 2D. Click links for showtimes.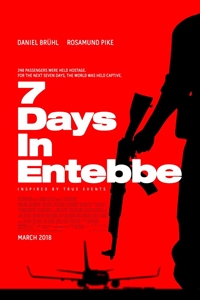 Playing at the following locations:
A gripping thriller inspired by the true events of the 1976 hijacking of an Air France flight en route from Tel Aviv to Paris, the film depicts the most daring rescue mission ever attempted.
Details
Drama, Suspense/Thriller
1 hr. 46 min.
Opened March 16th, 2018

Cast
Rosamund Pike
Daniel Brühl
Eddie Marsan
Ben Schnetzer
Kamil Lemieszewski
Director
José Padilha
Writer
Gregory Burke