CONCESSIONS TO-GO
Your Favorite Movie Theatre Treats for takeout!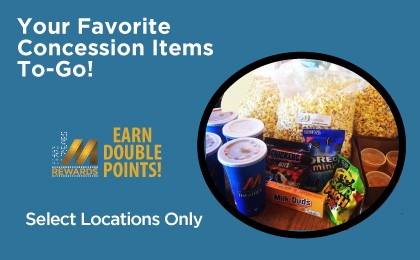 Dates:  On-Going!!
Earn M REWARDS Double Points on all orders*!
SPECIAL PROMOTION:  CAMINO REAL CINEMAS.  
Get 2 FREE Movie Passes with the purchase of the Movie Night Family Combo
Get 1 FREE Movie Pass with the purchase of the Date Night Combo
Participating Theatres:
Goleta, CA
Loveland, CO - THEATRE NOW OPEN - SCRIPTED NOW OPEN FOR IN-DINING SERVICE

MetroLux Dine-In Theatres/Scripted Bar & Kitchen

Daily:  Tuesday noon-8:30pm, Wednesday-Friday 2:30-8:30pm, Saturday & Sunday noon-8:30pm 
285 E. 3rd Street at The Foundry. (970) 744-2076
*M Rewards Double Points only available on Takeout Orders.
How It Works:
Call during hours listed to place your order 
MetroLux Dine-In and Scripted Bar & Kitchen (now open takeout or dine-in available)
Pay by credit card
Takeout will be ready for you when you arrive
Concession Packages: (available combos)
$25: Movie Night (Family Combo): 

Family size/jumbo popcorn
4 - 32 oz fountain sodas  (or Icees for .50 surcharge per)
choice of 4 candies

$15: Date Night Combo:

Jumbo popcorn
2 - 32 oz fountain sodas  (or Icees for .50 surcharge per)
choice of 2 candies

$5 Nachos (Camino only)
$4 Pretzels (Camino only)
A la carte items also available:  popcorn, Icees, Fountain Sodas, candy
Candy Options: (options may vary by location)
Buncha Crunch, Box
Chocolate Almonds, Box
Cookie Dough Bites, Box
Junior Mints, Box
Kit Kat
M&M's Peanut, Bag
M&M's Plain, Bag
Milk Duds, Box
Red Vine
Reese's Peanut Butter Cup Mini, Bag
Reese's Pieces, Box
Skittles, Box
Sour Patch Kids, Bag
Sour Punch Strawberry
Starburst Original, Bag
Sun-Maid Chocolate Raisins, Box
Sweetart Ropes Cherry 
Welch's Mixed Fruit Snacks, Bag
Whoppers, Box