Coronavirus: A Message from Metropolitan Theatres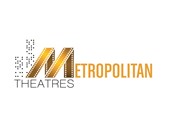 Dear Valued Customers,
We are excited to welcome you back to the movies, as they should be seen!  We have missed you and have been busy formulating reopening plans with enhanced safety procedures so we may open responsibly.  Theatres will open gradually in various markets, and updated opening dates will be posted on the website.  An outline of the many steps we have taken to provide a safe and enjoyable moviegoing experience follows.  Additional information may be found on the website.
Touch points have been minimized by making it easier to purchase tickets remotely and redeem at the theatre with the scan of a mobile device.  Our new website and app (to be launched in July!) should make this process seamless.  We will also soon have reserved seating in most auditoriums to provide guests the comfort of knowing where their seats will be in relation to others.  To start, seating will be limited to every other row in most auditoriums with two to three empty seats between groups to maintain social distancing and comply with 25% to 50% maximum occupancy limitations, which vary by site.
Furthermore, all employees will be screened and will wear masks and gloves.  Guests will be required or encouraged to wear masks when in common areas like the lobby, corridors and restrooms.  Enhanced cleaning protocol will be in place, and hand sanitizer stations will be available throughout the theatre. 
Your health and safety remain our top priority.  We appreciate your trust and confidence in us and look forward to seeing you soon.   
Please do not hesitate to contact us with any questions.
Sincerely,
David Corwin
President
Learn more about our safety procedures here.