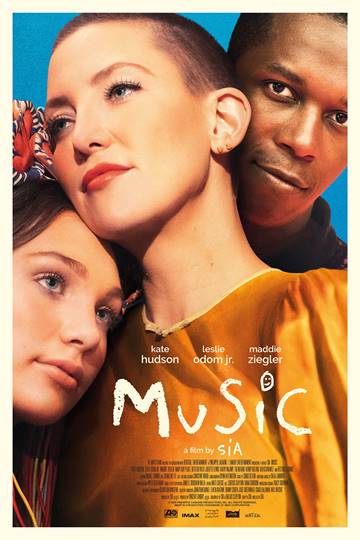 Zu, a free spirit estranged from her family, suddenly finds herself the sole guardian of her half-sister, Music, a teenager on the autism spectrum whose whole world order had been beautifully crafted by her late grandmother. With a history of addiction issues that challenge her self-worth and reliability, Zu can barely take care of herself and she struggles with the new responsibilities her sister brings. But Music has the watchful loving eye of her local community, and Zu soon learns that life's obstacles can be made easier with a little help from their neighbor, Ebo. Music explores the fragile bonds that hold us together and imagines a world where love can be found in the most miraculous of places.
Opened: Feb 12, 2021
Details: PG13, 1h 47m
Genre: Drama, Musical
Director: SiA
Writer: Dallas Clayton
Cast: Kate Hudson, Hector Elizondo, Maddie Ziegler, Leslie Odom Jr.
Select a Showtime for Music
Offers, Promotions & News
<<< DRAG, SCROLL AND CLICK TO SEE MORE PROMOTIONS >>>