Three Identical Strangers

PG-13
Available in 2D. Click links for showtimes.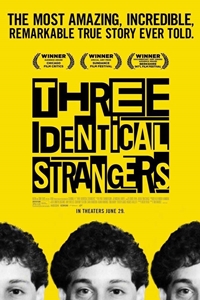 Playing at the following locations:
Three complete strangers Bobby Shafran, David Kellman, and Eddy Galland are reunited in an astonishing coincidence after being born identical triplets, separated at birth, and adopted to different families. Their jaw-dropping, feel-good story becomes a global sensation a viral hit in the pre-internet age.The triplets short lived, fairy-tale reunion sets in motion a chain of events that will unearth a unimaginable secret with radical implications for our very understanding of human nature. An exuberant celebration of family that transforms into a gripping, juicy conspiracy thriller and then beyond THREE IDENTICAL STRANGERS is a story that must be experienced to be believed, and proof that life is truly is stranger than fiction. Times three.
Details
Documentary
1 hr. 36 min.
Opened June 29th, 2018

Cast
Silvi Alzetta-Reali
Eddy Galland
Ron Guttman
David Kellman
Adrian Lichter
Director
Tim Wardle
Writer