Bethany Hamilton: Unstoppable

PG
Available in 2D. Click links for showtimes.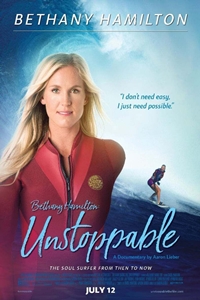 Playing at the following locations:
Bethany Hamilton is rewriting the rules on being a fearless athlete. This is the untold story of the heart of a champion and her resilience against all odds to become one of the leading professional surfers of our time.
Details
Documentary
1 hr. 38 min.
Opened July 12th, 2019

Director
Aaron Lieber
Writer
Aaron Lieber
Carol Martori