Available in 2D. Click links for showtimes.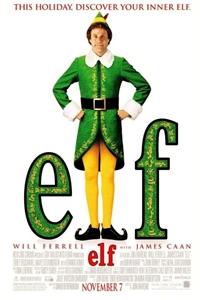 Playing at the following locations:
Many years ago at Christmas, a playful toddler accidentally ended up in Santa's bag and got whisked away to the North Pole. One of Santa's elves adopted the child, named Buddy, and raised him among the North Pole's tight-knit elfin community. Now Buddy is a tall, fully grown man. He is distinctly non-elfish and becomes forlorn because he's unable to fit in with the other elves. Buddy's adopted elf father suggests that it's time for Buddy to travel out into the world of men. But, fitting into the human world isn't easy for Buddy. He only knows the ways of elves, not the ways of humans -- especially urbanites.
Details
Comedy
1 hr. 35 min.
Opens December 13th, 2019

Cast
Will Ferrell
Zooey Deschanel
James Caan
Bob Newhart
Edward Asner
Director
Jon Favreau
Writer
Jon Favreau
David Berenbaum
Fri 12/13 Showtimes


Click times to purchase tickets