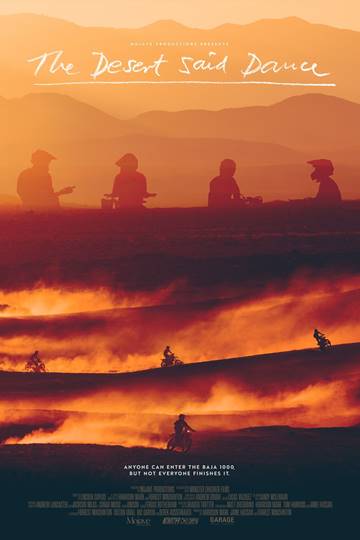 THE DESERT SAID DANCE - SANTA BARBARA PREMIER
Q&A with the cast and crew.
This is the story of four men whose passion comes before any paycheck. Each with motivations of their own. A motley crew united by motorcycle, with the common goal of proving to themselves and the world that they are alive and that the dance must go on.

The Baja 1000 is a race like no other. It is the longest non-stop, point to point, offroad race in the world. Anyone can enter the Baja 1000, but not everyone will finish it. Some aren't tough enough. Some don't have bikes that are tough enough. And some make mistakes that take them out of the race. Sometimes, tragically, forever.
For those already in the know, it's a chance to connect with the subtleties of performance and the art of the machine. For the uninitiated, it is a breathtaking introduction to the spectacle and sublime wonder that is the Baja 1000, and the men who endure enormous hardship in a landscape like no other.
Santa Barbara is TDSD cast member Derek Ausserbauer's hometown, so will also be celebratory for winning the 2021 baja championship!
Portion of ticket proceeds will go to Carlin Dunne Foundation
The foundations mission is to raise awareness and resources to help those in the cycle sports communities who have sustained head trauma.
"Son, brother, teammate, friend. Fearless competitor and devoted mentor. Carlin played endless roles, always leading with the same unmistakable charisma, unwavering calm, and signature twinkle in his eye. Whether racing on blacktop or in Baja, he led with the same fiercely competitive spirit, loving heart, and unwavering dedication. Destined for a life on two wheels, Carlin developed a lifelong obsession with perfecting his craft. Instilled with dreams of becoming a racer, filmmaker, and stuntman, he remained humble and gracious as his career took a meteoric trajectory.
While his list of achievements on two wheels stretches for miles, arguably Carlin's greatest accomplishment during his short time on earth was the positive impact that he had on the lives of everyone he came across. His passion for racing was truly connected to his passion and care for family and friends. Carlin lived every moment to the absolute max. He was kind, genuine, and so full of life.
Renowned for taking fellow riders under his wing, mentorship came second nature to Carlin. Whether showing youngsters the ropes or simply embodying a life lived at full throttle, he had an unmistakable knack for bringing outsiders into the fold, exemplifying love, kindness, and camaraderie along the way."
Opened: Dec 16, 2021
Details: NR, 1h 43m
Director: TBC
Writer: TBC
Cast: TBC
Select a Showtime for The Desert Said Dance
Offers, Promotions & News
<<< DRAG, SCROLL AND CLICK TO SEE MORE PROMOTIONS >>>