Metropolitan Theatres Promotions and Special Events
Our promotions and special events are updated regularly, so please check back often.
Special Offer
at MetroLux Dine-In Theatres and Scripted Bar & Kitchen
Save $10 off of your Food & Beverage Purchase of $30 or more! (with coupon)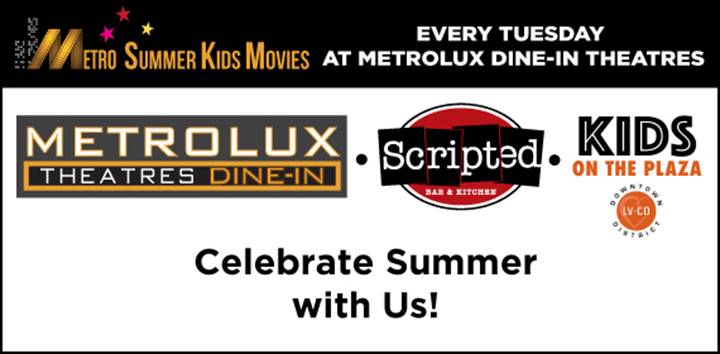 Kids Summer Movies
Every Tuesday at MetroLux Dine-In
METRO SUMMER KIDS MOVIES!
Now - August 11
2:15pm
$1 Kids Movies Every Tuesday
$9 Special Kids Offer* (sold at Box Office only)
7/14: Dolphin Tale
7/21: Small Foot
7/28: Lego Batman
8/4:   Storks
8/11: Happy Feet
* Kids Special Offer:  $9
Includes:

Movie Ticket
Lunch (hot dog or grilled cheese)
Unlimitd soda refills 
Dessert (ice cream cone/cup or small kids milkshake)
(Additional fees include .50 Foundry Improvement Fee and 1% PIF)
•
ENJOY LUNCH AT
SCRIPTED BAR & KITCHEN
Kids Menu Available
OPEN FOR LUNCH
Every Tuesday  (During the series.)
•
KIDS ON THE PLAZA
at The Foundry Plaza
Every Tuesday:  noon-2pm
$2 Tuesdays
All Movies - All Day
$2 TUESDAYS!
ALL MOVIE, ALL DAY!!
No booking fees on advance tickets.
(.50 Foundry improvement fee applies)
Your Favorite Concession Items To-Go!
Participating Locations: Camino Real Cinemas & MetroLux Dine-In/Scripted Bar & Kitchen
Now Available!
SPECIAL PROMOTION at CAMINO REAL CINEMAS.  
Get 2 FREE Movie Passes with the purchase of the Movie Night Family Combo
Get 1 FREE Movie Pass with the purchase of the Date Night Combo
CLICK LEARN MORE for details
Special Senior Only Show & those at-risk.
at MetroLux Dine-In Theatres
Your safety is our top priority.
Senior Only Show and for those at-risk.
Every Tuesday at 1:15pm
Doors open at 12:45pm
at MetroLux Dine-In Theatres
Seniors 60+
OFFERS, PROMOTIONS & NEWS
<<< DRAG, SCROLL AND CLICK TO SEE MORE PROMOTIONS >>>