Metropolitan Theatres Promotions and Special Events
Our promotions and special events are updated regularly, so please check back often.
Scroll Down for promotions & offers.
Bargain Tuesday
Save on Tickets & Concessions!
Every Tuesday is Bargain Tuesday! 
Enjoy lower priced tickets.
And, get a Bargain Tuesday Combo of a small popcorn & small soda for $6!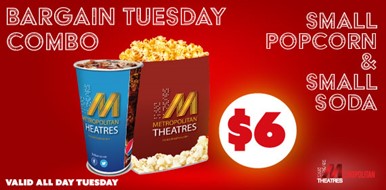 Metro Summer Kids Movies
$2 Family Movie Every Week!
Family Movie Fun All Summer Long!
Tickets on-sale now!
Participating Theatres:
MetroLux 14 Theatres at Centerra: Tuesdays & Thursdays at 10am
MetroLux Dine-In Theatres at the Foundry in Downtown Loveland: Wednesdays at 2pm
MetroLux Theatres at Outlets at San Clemente: Wednesday & Thursdays at 10am
Fiesta 5 Theatre: Tuesdays & Wednesdays at 10am
Camino Real Cinemas: Thursdays at 10am
Your Private Screening
Rentals & Buyouts
Rentals are booked one week out only and are based on availability.  Rentals are limited and are not guaranteed.
OFFERS, PROMOTIONS & NEWS
<<< DRAG, SCROLL AND CLICK TO SEE MORE PROMOTIONS >>>