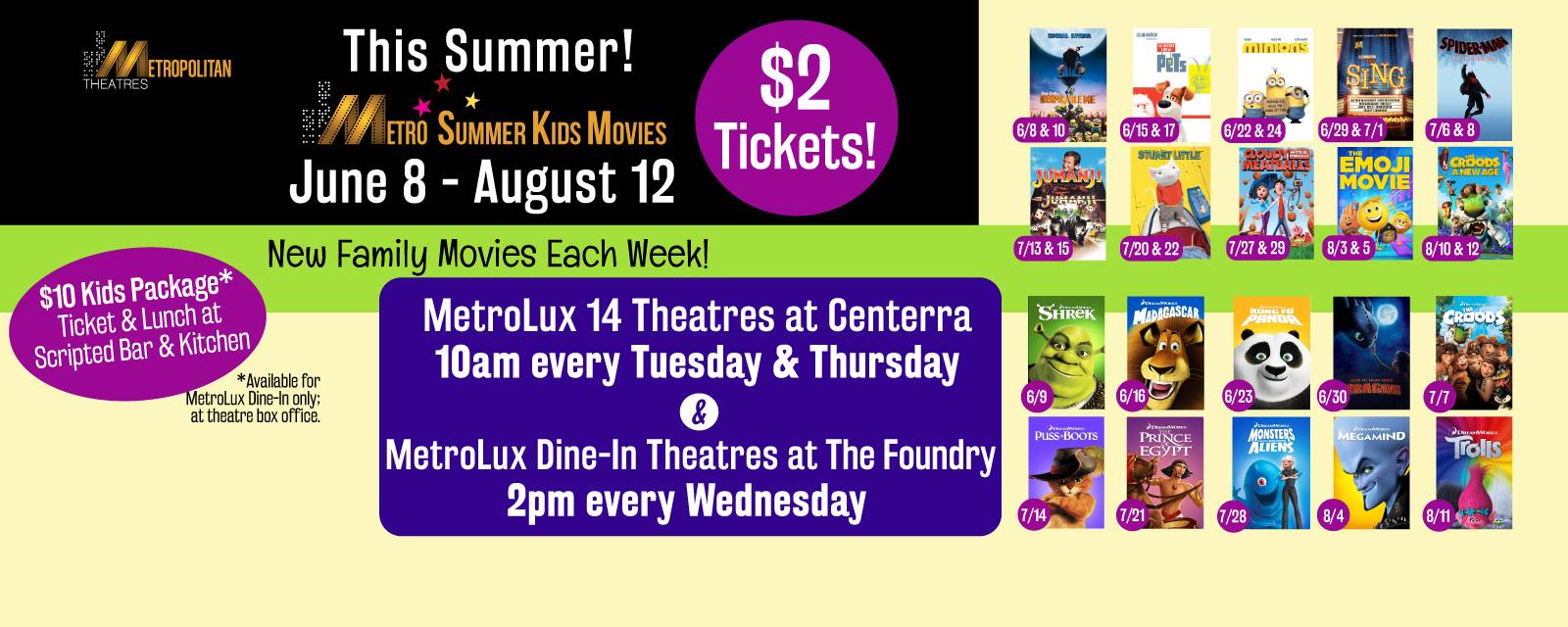 $2 Family Movie Every Week!
Loveland, CO Theatres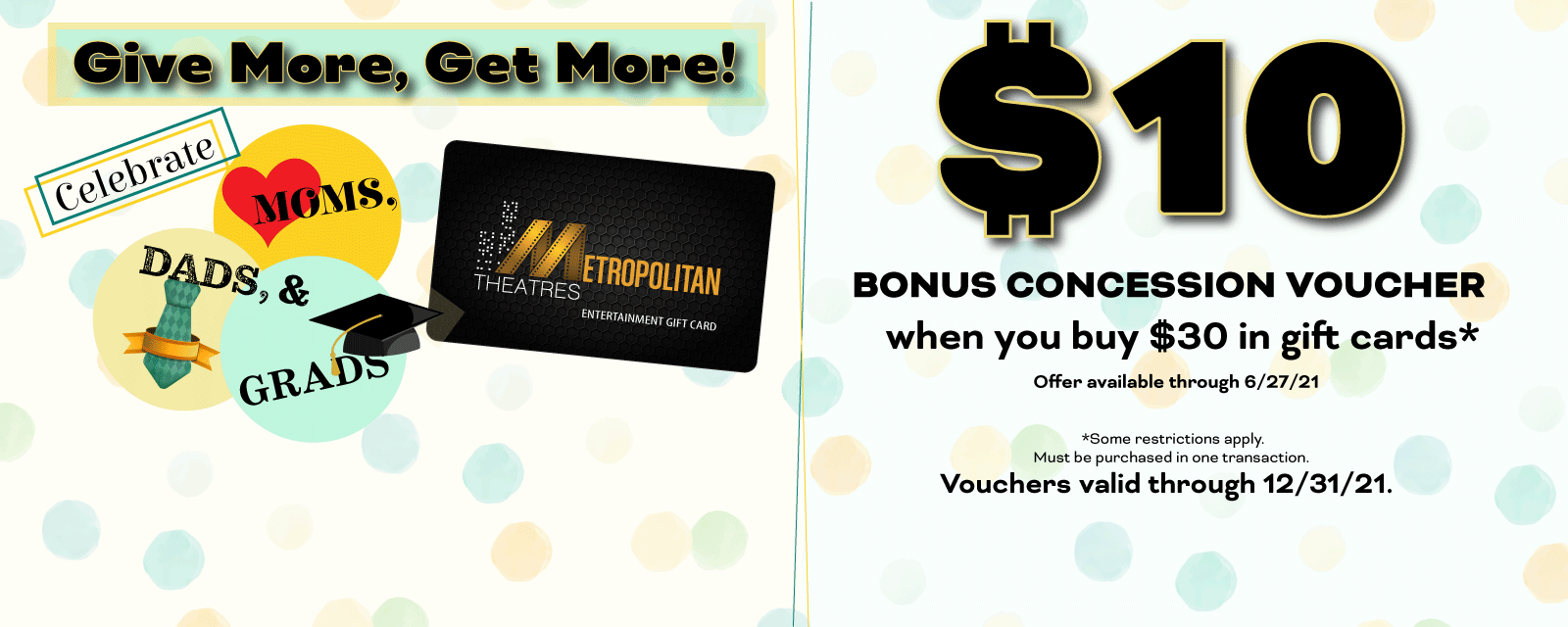 Gift Card Promotion
Special Offer with purchase!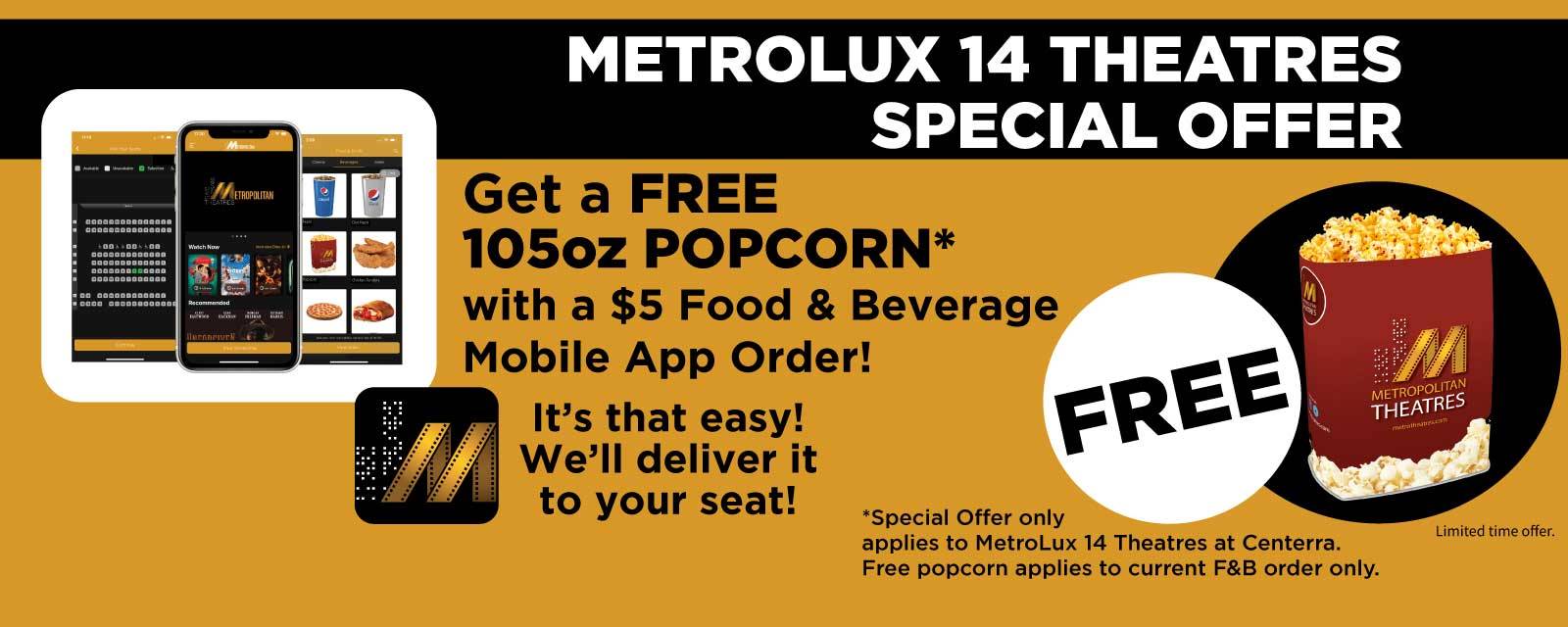 Mobile App Promotion!
Order Now!
Metropolitan Theatres Promotions and Special Events
Our promotions and special events are updated regularly, so please check back often.
Scroll Down for promotions & offers.
Celebrate Cinema Week!
Celebrate Cinema Week with us!
June 22-27.
Promotion runs June 22-July 4.
Buy any combo* and add Cookie Dough Bites for just $2 more!
*Kids Combo not included.
Available while supplies last.
$10 Bonus Concession Voucher
with every $30 in gift cards purcahsesd!
MOMS, DADS & GRADS RULE!
THE GIFT OF MOVIES IS THE PERFECT WAY TO SAY YOU CARE!
PROMOTION:
With every $30 purchased in gift cards, receive a $10 Bonus Concession Voucher.
Concession vouchers are valid through December 31, 2021.
Promotion runs through June 27, 2021. Gift Cards must be purchased in one transaction to qualify.
When purchasing physical gift cards, voucher(s) will be mailed.  When purchasing e-gfit cards, voucher(s) will be emailed within the next business day of purchase.  All vouchers will be sent to the gift card recipient unless we are contacted.  Email us here.
Metro Summer Kids Movies
$2 Family Movies every week!
Enjoy family movies every week for only $2*!
June 8 through August 12
MetroLux 14 Theatres at Centerra: Tuesdays and Thursdays at 10am
MetroLux Dine-In Theatres: Wednesdays at 2pm
Kids Special Package available for MetroLux Dine-In Theatres in Downtown:  $10* includes ticket & a kid's lunch at Scripted Bar & Kitchen. Available at the box office only.
Private Rentals Available each week:  Just $99 for up to 20 guests and includes a kids pack for everyone!
*No booking fee.
To Book a Metro Summer Kids Movie Private Rental, CLICK HERE!  Camps welcome!!
Mobile App Promotion!
Order Now!
Get a FREE 105oz POPCORN*
with a $5 Food & Beverage Mobile App Order at MetroLux 14 Theatres at Centerra!
It's that easy! We'll deliver it to your seat!
*Special Offer only applies to MetroLux 14 Theatres at Centerra. Free popcorn applies to current F&B order only.
Limited time offer.
Your Private Screening
Rentals & Buyouts
Rentals are booked one week out only and are based on availability.  Rentals are limited and are not guaranteed.
OFFERS, PROMOTIONS & NEWS
<<< DRAG, SCROLL AND CLICK TO SEE MORE PROMOTIONS >>>