Camino Real Cinemas, Goleta, California
7040 Marketplace Drive,
CA 93117
Camino Real Cinemas
Goleta, CA
Theatre Amenities
Stadium Seating
Reserved Seating
Advance Ticketing - Show e-ticket at the door for admittance
All Digital Projection & Sound
Closed Captioning (CC)
Audio Description (AD)
Handicap Access
Beer & Wine Served
Expanded Food Menu
NOW PLAYING
<<< DRAG & SCROLL TO SEE MORE MOVIES>>> Camino Real Cinemas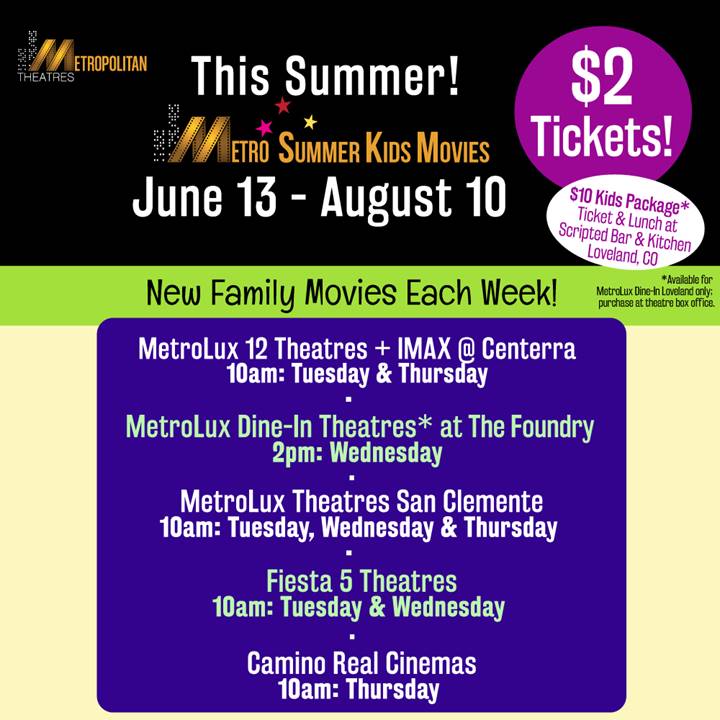 Metro Summer Kids Movies
Family Movie Fun All Summer Long!
June 13 - August 10
Movie titles coming soon.
Participating Theatres:
MetroLux 12 Theatres + IMAX @ Centerra: Tuesdays & Thursdays at 10am
MetroLux Dine-In Theatres at the Foundry in Downtown Loveland: Wednesdays at 2pm
MetroLux Theatres @ Outlets at San Clemente: Tuesdays, Wednesdays & Thursdays at 10am
Fiesta 5 Theatre: Tuesdays & Wednesdays at 10am
Camino Real Cinemas: Thursdays at 10am
Cost:
$2 all seats & no booking fee.
$10 Kids Package available for MetroLux Dine-In Theatres in Downtown Loveland, CO only. Available for purchase at the Box Office only: Includes ticket & lunch
Private Rentals Available each week: Perfect for Camp Groups!
Metro Summer Kids Movies Private Rentals are available on the scheduled film date only and for select early showtimes only. To inquire about booking a Metro Summer Kids Movies Private Rental, CLICK HERE!  Camps welcome!!
ENJOY A BEER OR WINE WITH YOUR MOVIE!
Red, White, Sparkling, Draft & Bottled
Enjoy Happy Hour Specials Monday - Friday, 4-6pm
FOOD, FOOD, FOOD!
Pizza, Popcorn and more!
Camino Real Cinemas
7040 Marketplace Drive, Goleta, CA, 93117
OFFERS, PROMOTIONS & NEWS
<<< Drag, Scroll and Click to See More Promotions >>>