Fiesta 5 Theatres, Santa Barbara, California
916 State Street,
CA 93101
Fiesta 5 Theatres
Santa Barbara, CA
Theatre Amenities
Stadium Seating
Reserved Seating
All Digital Projection & Sound
Closed Captioning (CC)
Audio Description (AD)
Handicap
View public parking locations here.
NOW PLAYING
<<< DRAG & SCROLL TO SEE MORE MOVIES>>> Fiesta 5 Theatres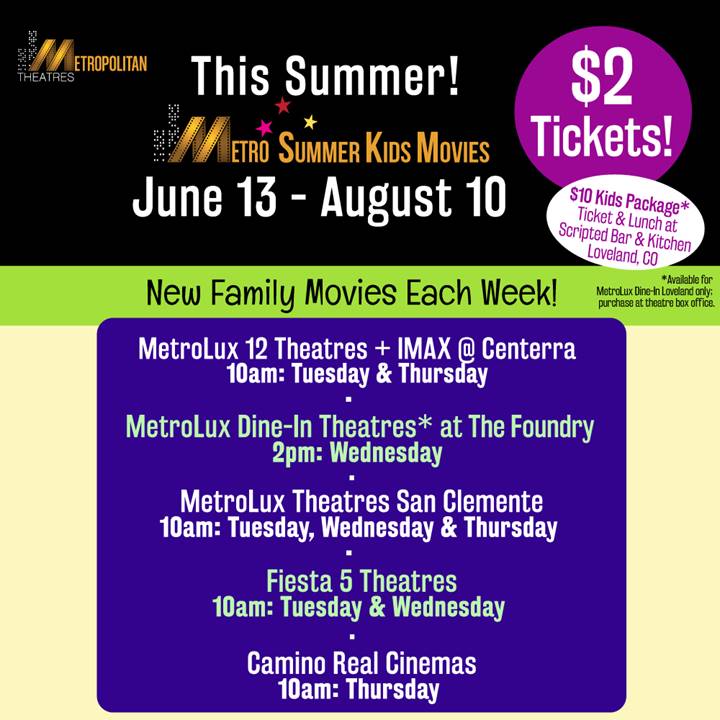 Metro Summer Kids Movies
Family Movie Fun All Summer Long!
June 13 - August 10
Movie titles coming soon.
Participating Theatres:
MetroLux 12 Theatres + IMAX @ Centerra: Tuesdays & Thursdays at 10am
MetroLux Dine-In Theatres at the Foundry in Downtown Loveland: Wednesdays at 2pm
MetroLux Theatres @ Outlets at San Clemente: Tuesdays, Wednesdays & Thursdays at 10am
Fiesta 5 Theatre: Tuesdays & Wednesdays at 10am
Camino Real Cinemas: Thursdays at 10am
Cost:
$2 all seats & no booking fee.
$10 Kids Package available for MetroLux Dine-In Theatres in Downtown Loveland, CO only. Available for purchase at the Box Office only: Includes ticket & lunch
Private Rentals Available each week: Perfect for Camp Groups!
Metro Summer Kids Movies Private Rentals are available on the scheduled film date only and for select early showtimes only. To inquire about booking a Metro Summer Kids Movies Private Rental, CLICK HERE!  Camps welcome!!
SAVE ALL DAY ON TUESDAYS!
Mark your calendars for Bargain Tuesdays!
MOVIES NOW AVAILABLE IN SPANISH!
Movies are now available in Spanish with Theater Ears. Get the app today!
Fiesta 5 Theatres
916 State Street, Santa Barbara, CA, 93101
OFFERS, PROMOTIONS & NEWS
<<< Drag, Scroll and Click to See More Promotions >>>